My First two days in Bali.
By Peter Jr – 14 yrs
On January 7th we said goodbye to our friends and family in Australia and boarded a plane to Bali. When we landed, we picked up our backpacks and were greeted by our driver holding a sign with our name on it. After a hectic drive from the airport to the central village of Ubud, dodging oncoming traffic and more motorbikes than we could count, we arrived at the Tjampuhan Hotel. As soon as we walked through the reception area we were greeted by the friendly staff, and a peaceful jungle view, overlooking a steep river valley.
After a good night sleep, we woke up early and went out to a remote village to see how the rural Balinese people live and work everyday. That was one of my favorite things to do. Working in the rice fields with the mud and the cattle really showed me how much work goes into something that I used to take for granted. I had the unique opportunity to drive the cattle drawn plow through the rice fields to level it of in preparation for planting.
We then were given bundles of rice shoots to plant deep in the mud.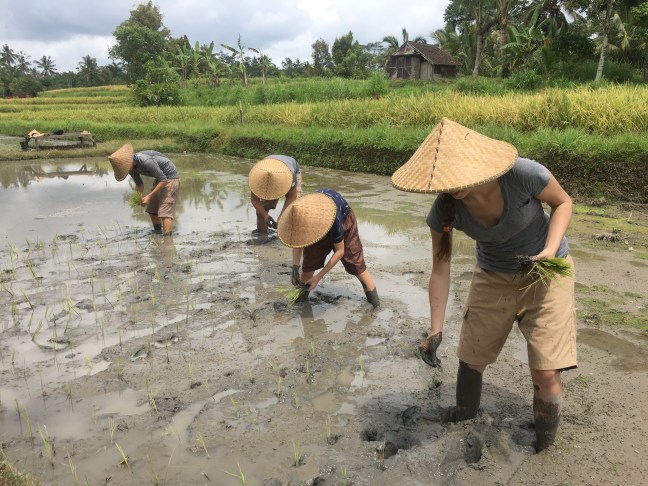 We were instructed to plant 2 – 3 three rice shoots in each area. At first I was very slow at it. The mud was deep and sticky and it held my bare feet in place like a suction-cup. I was thinking it would take a month to plant the field at this rate. Over time however I was able to move along fairly quickly. Watching the locals I was amazed at their speed and accuracy, planting row after row in beautiful straight lines. The rice is planted in a flooded field and remains underwater until the grains begin to grow on the stems. As the rice ripens the fields dry up and become ready for harvest.
The next day we woke up early again to visit some very culturally significant sites. The first visit on our list was Pura Besakih also known as The Mother Temple. This is the largest and holiest temple in the Hindu religion in Bali. It sits about 1000 meters up the side of Mount Agung in the North eastern part of the Island. When we arrived, our guide explained to us that the Mother Temple was actually 23 separate temples in one. Out of respect for the people, we wore the traditional clothing which included a sarong (robe), a sash and an udeng (hat). Here is a photo of us all dressed up for the occasion, although I stuck to my traditional baseball cap because wearing a skirt was already as far out of my comfort zone as I wante d to go.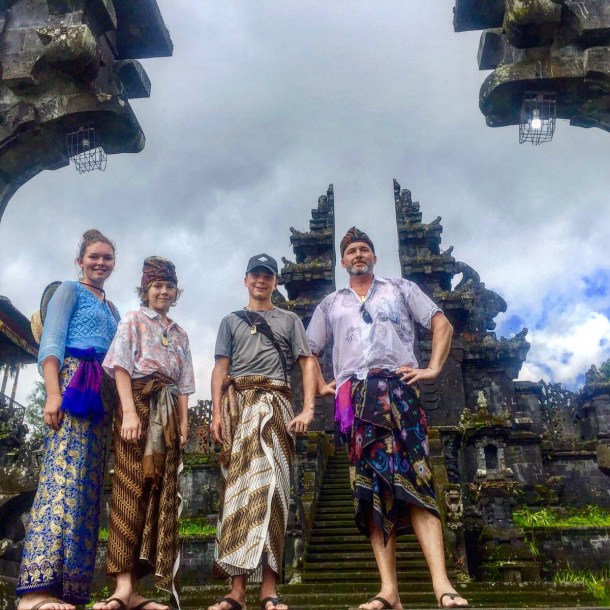 Next on our tour was a visit to see Kerta Gosa, the ancient court of justice located in the center of Bali. This is where the supreme King used to judge and pass sentence on those who have committed a crime.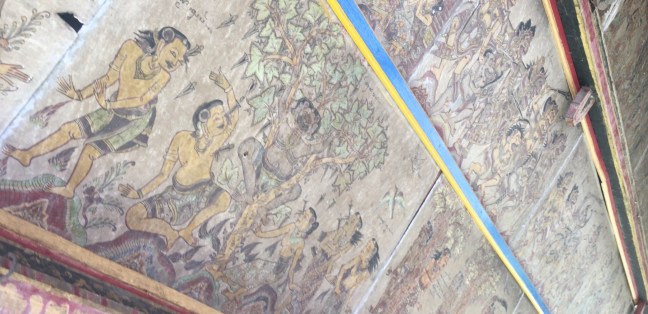 It was quite surreal. The original building was built in the 1600s which makes it definitely one of the oldest buildings I've ever seen. On the ceiling were hundreds of paintings depicting the crimes and punishments according to the law of the day. Rather than volumes of law books and case studies like today, this was their legal system. Not only were you punished for your crime, Karma also took care of you. Double the reason to be good.
Stay tuned for more stories from my adventures in Bali, Indonesia.
Follow me on Instagram Here.