By Peter Jr - 14 yrs On January 7th we said goodbye to our friends and family in Australia and boarded a plane to Bali. When we landed, we picked up our backpacks and were greeted by our driver holding a sign with our name on it. After a hectic drive from

Over the past year I have traveled around North America with my family of 5, in our Winnebago RV. Currently we are traveling in Asia, Australia and New Zealand.
I think it's fair to say that I am a dog lover. I would like to get a dog again someday but I understand the challenges of traveling with pets. So, I am currently doing some research to get a better understanding of what type of dog would fit my family's life style.
I would need a dog that doesn't mind riding in our Jeep or motor-home for hours at a time. I need a dog that loves to hike and climb mountains and finally I need a dog that is not too hairy because we live in small spaces and my Dad would be sneezing all night.
So while traveling I've been looking around and asking fellow travelers what dog or dogs they love traveling with. It is really fun research because I've been able to pet and make friends with so many awesome dogs everywhere I go. Their humans are usually really nice too.
I've gotten back lots of good feedback from many different travelers. I've seen all types of dogs from active to relaxed, big and small, long and short haired.
Every one has different opinions but I've found my favorite dog breeds for the active traveler.
Here are the top two active breeds I like best!
Australian Shepard.
Jack Russell.
I will start with the Australian Shepherd. Most people think that they would be big and scary just because of the word Shepherd in their name, but they are actually very cute. To give you an idea of what they look like here's a picture.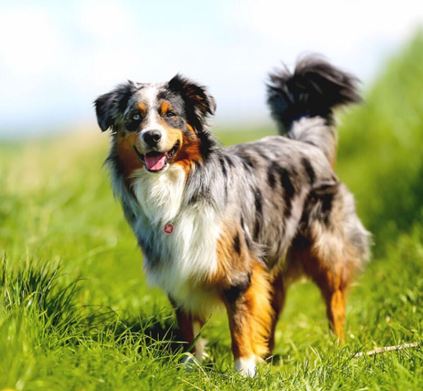 I know they are pretty furry but you can trim their hair or get a short haired Australian Shepherd. They are active dogs and are perfect on hikes or mountain biking. They also are good at going on walks and being a family guard dog. They can be trained to do a lot of tricks.
One Australian Shepherd I know can even army crawl. I had the pleasure of meeting plenty of Australian Shepherd's at the Over Land Expo in Asheville, North Carolina. The one I got to spend the most time with was named Athena. They are good in RVs and in cars as long as you take them out for a walk/play every few hours, just like a kid like me, I love getting out and playing between long trips.
Overall Australian Shepherds are great traveling dogs for the active traveler, I've seen some running beside their owners on everything from mountain bike trails to multi-day treks.
So now that you have heard all about Australian Shepherds I'm going to talk about the Jack Russell.
Jack Russells are in the small category of dog sizes. They are very playful and they love to dig holes, but I'm sure you can train yours to not dig up your lawn.
These are very cute dogs and are mostly short haired. Jack Russells are also one of the smartest dogs in the world. If you have never seen a jack Russell they are pretty hard to picture, so here is a photo of one.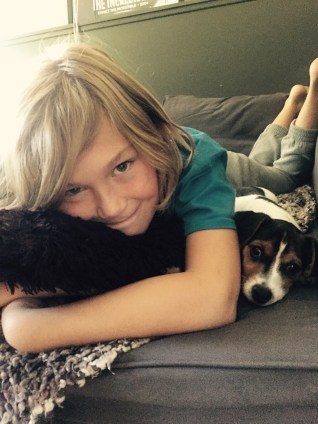 I have met a lot of Jack Russells and have had fun playing with every one of them. Jack Russell's are very active, especially Jack Russell puppies.
They are good hikers and swimmers and are able to carry a dog hiking pack. They are good in RVs and cars as long as you take them out to exercise and feed them. I personally recommend using a soft case to transport or carry them in.
My conclusion so far is that both Jack Russells and Australian Shepards are great for the active traveler like me, but I can't choose between them at this time. Maybe I'll ask my parents if I can get one of each.