Our Bali Adventure & How You Can Plan Yours
We booked our flights and tours with Flight Centre in conjunction with Infinity Holidays in Adelaide on January 1st, 2017. Our travel agent Hailie was very insightful and within a few hours, we were able to book our tickets with Tiger Airways, 6 guided tours, and 3 hotels for a duration of 2 weeks from January 7th-20th. Afterward, we immediately began researching more about the climate, currency, and culture of Bali since we had never been to Southeast Asia before. We were given a compact waterproof folder that held all the papers and information we would need during the trip including brochures, flight tickets, and an itinerary. The itinerary included; Confirmation numbers, emergency contact numbers, important times, and location information. With all of this confirmed information, we were able to have seamless travel but still not knowing what to expect every day, allowing us to still have a great experience and adventure. We would be taking 6 guided tours throughout the first week of the trip with Buffalo Tours. Our guide for the majority of the tours was named Ariani, she was wonderful and an incredible source of information. All of the tour drivers were friendly and trustworthy. Exceptional customer care with a helpful, kind, and always positive attitude was clearly evident in everyone we met in Bali.
Before we left, we gathered enough basic information to know what to pack. It's important that no matter what time of year you go to bring sunscreen and bug spray. Both are available in Bali but make sure to bring your own just in case. A sunhat of your choice and sunglasses make the days out and about in Bali a lot more comfortable, especially when it's sunny of course! Not wearing inappropriate footwear or wearing too hot of clothing is a common mistake no matter what time of year you go.
Swimwear is essential. We spent 99% of the time barefoot or in sandals, but tennis shoes or hiking boots are good to have for hikes, biking, and other activities. A travel umbrella or raincoat can be useful as it was for many tourists walking through the streets of Ubud when the occasional but brief rainstorm would pass through. A money wallet/pouch is pretty important since you never know when you'll want or need to spend it. My dad carried an "Undercover Eagle Creek neck wallet" which held all our passports, some of our money and other small papers. If you're planning on capturing your trip for memories than be sure to bring your necessary or desired camera and electronics gear. I would recommend a GoPro camera for your travels since they not only take 4k quality videos, they are also small, lightweight, versatile, and have waterproof housing. This makes capturing your adventures so much easier, more fun, and you can capture moments that most cameras can't!
What you pack really depends on your personal style, what you find comfortable, how long you will be staying, what the weather is like where you are going, and what type of activities you will be doing. For the clothing and footwear items on this basic packing list, you can add or remove the items you find necessary/unnecessary, or what you want to have based on your style, the activities you will be doing, and anything else you might think of. In Bali during our trip, it seemed to get a little cooler some of the nights or when it was raining so having a raincoat, long sleeved shirt or light sweater can be useful. Light flowy shirts, pants, dresses, etc were nice to have in Bali since it was pretty hot and humid.
*Keep in mind that there are two seasons in Bali, the wet season and the dry. Temperatures average around 31 degrees Celsius year round. The Wet Season which can be very humid is between October and April and the Dry Season between May and September.
Basic Pack List:
Passport(s)
Any Important travel documents/information
Foreign exchange money (In this case IDR)
Sunscreen (SPF 30 +)
Bug spray
Sunglasses
Sun protective hat
Camera gear
Sandals
Hiking boots and/or Tennis shoes
Swimwear
Shorts
Long pants and/or Hiking pants
Short sleeved shirt and/or Tank top
Sweater and/or Long sleeved top
Raincoat and/or Travel umbrella
Phone/Charger(s)
*Tip: In Bali, you can expect to see 2 pin socket and plug as used in larger parts of Europe. We brought a universal travel adapter to charge our electronics and camera gear. Some hotels do provide adapters.
* Tip: If you are planning on taking tours or visiting sights and attractions that require booking, you can very simply book them through a travel agency or at your hotel when you arrive. And, it makes your travel experience more seamless and fun to book ahead of time!
There are many tours and attractions to choose from, and many tours visit multiple sites in one day which is great! It's important to find what you will want to see within your time frame but don't always plan everything, it makes it more interesting and fun.
*(Keep in mind when we booked our trip with the travel agency we specifically told our travel agent that we wanted to avoid luxury, resorts, or too touristy attractions. So if a luxurious holiday is what you were looking for then this guide may not be for you.) If you were looking for a guide to a more borderline luxury accommodations, action packed, culturally immersive experience then keep reading!
The Tours We Took:
Farming & Daily Life Tour:
"Bali's natural beauty never ceases to amaze, and this tour explores some of Bali's best-untouched landscapes. Explore Taman Ayun, a royal Hindu temple amidst the lush scenery, and journey to Rumah Desa where the discovery continues with palm readings for all and a hike through rolling countryside. Spend some magical time in the heart of a Balinese rice field, farming the crop alongside the farmers and water buffaloes. Enjoy a hot, delicious lunch and a relaxing afternoon exploring the beautiful surroundings, including a stop at Jatiluwih to observe the breathtaking views of expansive rice fields."
*This tour was probably my favorite, and a great way to start our trip in Bali. The description of the tour doesn't even begin to describe the actual fun and incredible once in a lifetime experience that this tour provides. We ate passion fruit fresh off the tree, drank from coconuts, climbed palm trees, planted rice and prepared a rice crop riding behind two water buffaloes, walked through enchanting jungle and over bamboo bridges, learned how to prepare coconut milk and shavings the traditional Balinese way, tasted delicious Balinese food, treats, and drinks in a serene garden surrounded by lush plants and Balinese traditional architecture, to say the least it was unforgettable!
(Caroline van Stralen Photography, @Caroline.Abroad, 01/08/17)
(Caroline van Stralen Photography, @Caroline.Abroad, 01/08/17)
(Caroline van Stralen Photography, @Caroline.Abroad, 01/08/17)
Besakih Mother Temple Tour:
"It's an early morning start for today's tour; we make our way along the eastern coastline of Bali. First stop is at "Kerta Gosa" Hall of Justice located in Klungkung, the artwork and architecture is what makes this site famous.Continuing on we head to Bukit Jambul, perched on top of a green hill with beautiful views of rice terraces and encircled by fertile tropical trees.Making our way to the highlight of this tour, Besakih Mother Temple, it is located over a thousand feet up the side of Mt. Agung. Besakih is the largest temple in Bali, comprising of 23 separate but related individual temples. The impressive backdrop will have you feeling as if you were in the clouds."
*Just as you begin to get used to seeing all of the hundreds of temples around Bali on every corner, and every street you then get to see the beauty and uniqueness of the Besakih Temple.The views, incredible architecture and cultural experience this place and tour provides is unlike any other. On the way back from the Besakih Temple we did a side stop at an amazing place that makes Kopi Luwak Balinese coffee. We got to walk through a beautiful pathway surrounded by dense jungle vegetation and was home to many of the different coffee beans and natural ingredients that are used to flavor the coffees and chocolates such as vanilla. We got to try grinding the coffee and tasted many different amazing coffees, teas, and cocoa. My favourite was the coconut coffee, and their "Bali Dark Chocolate" which was delicious!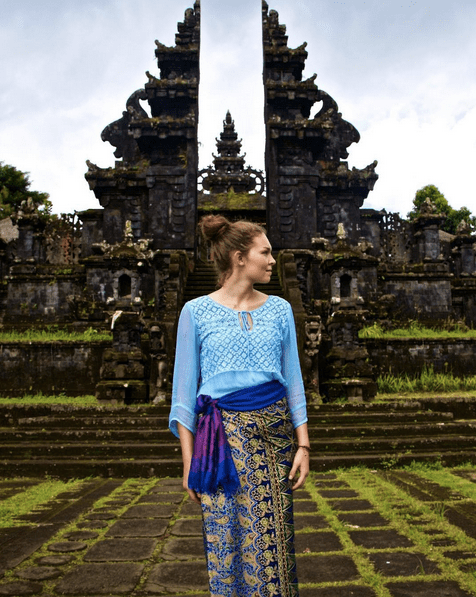 (Caroline van Stralen Photography, @Caroline.Abroad, 01/09/17)
(Caroline van Stralen Photography, @Caroline.Abroad, 01/09/17)
Balinese Blessing & Cooking:
"Blessing rituals and offerings play an important part in Balinese daily life. Explore and partake in traditional rituals, cleansing yourself mentally and physically, eliminating bad energy and expressing gratitude through an offering that you build. In the afternoon, travel to a flourishing garden to pick fresh ingredients for a cooking lesson, and learn to cook a classic Balinese meal. Enjoy the fruits of your labora delicious, fresh lunch while taking in the stunning natural scenery."
*This tour was extremely immersive and fascinating. My favourite part was eating the food we got to prepare from scratch and with all organic and freshly hand picked ingredients because the meals were beyond delicious. The dining area and kitchen had a stunning view of rice fields right outside!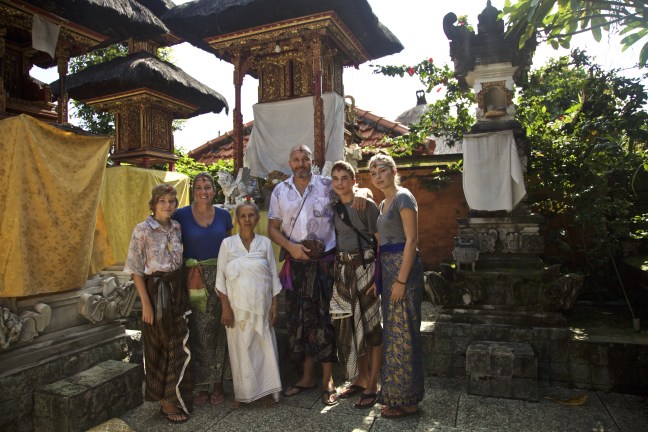 (Caroline van Stralen Photography, @Caroline.Abroad, 01/10/17)
(Caroline van Stralen Photography, @Caroline.Abroad, 01/10/17)
Elephant Safari & Lunch:
"There's no better way to appreciate elephants than to jump into their bathing lakes and take part in their morning bath. This exclusive interactive experience is a once in a lifetime opportunity, ride through their bathing lake bareback. Once you have finished bathing the elephants sit back, relax and enjoy a gourmet breakfast in the Park Restaurant overlooking the lake."
*As an animal lover I couldn't help but feel guilty pretty much the whole time, especially riding the elephants, but as long as our money is going to help the elephants in some way then I think it was a very fun experience. It was a great getting to wash, feed, and hug the elephants up close.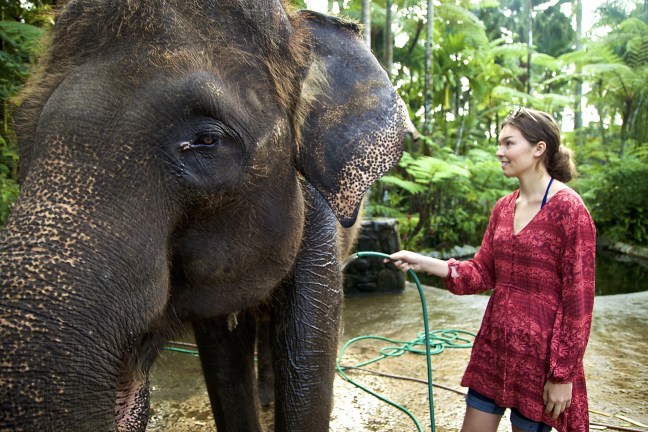 (Caroline van Stralen Photography, @Caroline.Abroad, 01/10/17)
Tanah Lot Sunset & Cocktail:
"First stop on this tour is at Alas Kedaton, home to one of Bali's famed monkey forests. Featuring towering nutmeg trees that are unique to this area and sacred to the Balinese people, it is also home to some of the cheekiest temple monkeys. Megwi is our next destination, making a stop at the former Royal Temple, Pura Taman Ayun. Built in 1634, it is arguably one of the most beautiful temples on the island surrounded by a moat. Purah Tanah Lot is the last temple we visit, perched on top of a rock just offshore. At low tide, it can be reached by wading out and at high tide, the waves create mesmerizing rainbows as they crash against the temple."
*This was definitely what we needed after a very busy last four days of tours. The luxurious resort surroundings, cool ocean breezes, beautiful view of the temple from the comfortable lounge, chill music, delicious food, and the most incredible sunset I have ever seen…not a bad way to relax in Bali. The monkeys were cool, but to be honest, I wanted to leave pretty soon, and we had to try bargaining with a lady over a dress and tank top that we ended up spending $45 on which we didn't plan on having to do. And we didn't end up stopping at the Pura Taman Ayun temple on the way since we had already been there on an earlier tour and we were all pretty tired.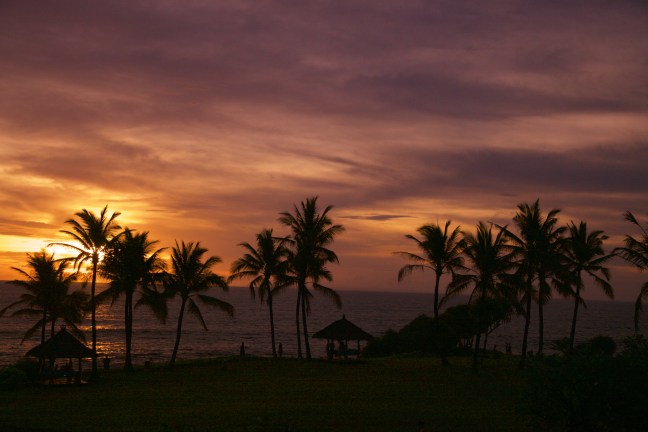 (Caroline van Stralen Photography, @Caroline.Abroad, 01/12/17)
Mountain Cycling Tour:
"Your cycling tour begins with the stunning views of Mt. Batur Volcano in Kintamani. Start with a journey downhill through 26km of lush valleys, passing Balinese villages, century-old temples and rich green rice fields along the way. Your expert guide will explain the history of the land and its culture to make your experience unforgettable. Your adventure ends at the Bali Adventure Tours Elephant Safari Park where lunch awaits."
* This was a really fun tour! But if you are a mountain biker/cyclist and you're used to your average to really nice bikes then be prepared to use not very new or exactly comfortable bikes. It wasn't like we were riding in agony for the entire tour, or that we were completely uncomfortable but it definitely made us thankful for our own bikes! The ride was beautiful and easy, though we had to cut the ride short because my brother was experiencing a very low blood glucose level (T1D) it was still nice to enjoy lunch at the Elephant park.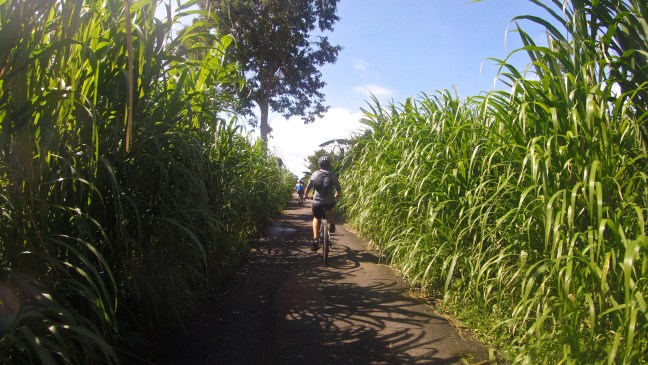 (Caroline van Stralen Photography. @Caroline.Abroad, 01/13/17)
Our Accommodations/Recommendations:
*In Bali you have to be prepared to have a few harmless critters in your room! We only found two tiny geckos on the walls that never bothered anyone, they were actually pretty cute!
Tjampuhan Hotel & Spa, Ubud, Bali (January 7-14):
This hotel was incredibly beautiful, and definitely a wonderful place to stay when you first arrive or for the entire duration of your trip to Bali. We booked for two "Superior Agung" rooms which were beautiful, comfortable, air conditioned, clean, and in a traditional Balinese Architectural style. This hotel has many beautiful rooms to choose from that are placed amid lush Balinese palms, plants, and vibrant exotic flowers overlooking a tropical ravine. Through the trees and across a walking bridge suspended high above a wide river you can see a beautiful temple, and just down the stone pathway from our room was a beautiful swimming pool which was perfect for cooling off. The rooms feel peaceful and secluded and our rooms were a couple hundred stone steps down from the main lobby which sounds terrible but it was actually not that bad and a great workout! The Ubud markets, restaurants, and other shops are accessible right outside the hotel.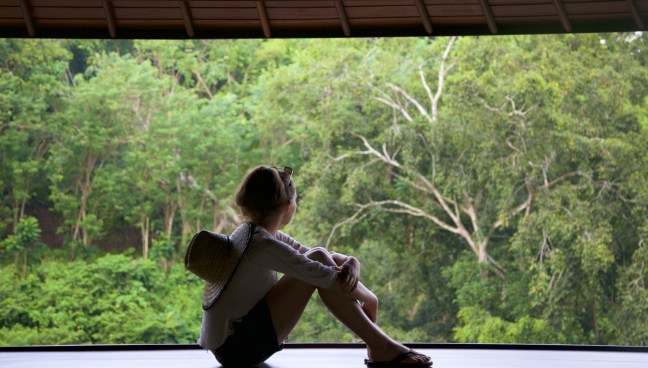 (Caroline van Stralen Photography, @Caroline.Abroad, 01/10/17)
Puri Saron Baruna Beach Cottages (January 14-15):
We had booked a "Deluxe Room" at this hotel which was a 3-hour drive from the Tjampuhan in Ubud. This hotel is located right along a northern Bali beach with extremely friendly staff, and great service and the pool was also enjoyable. For the price, it was a good place to stay the night and experience Northern Bali.
Pan Pacific Nirwana Bali Resort (January 15-16):
*(We didn't book this hotel with the travel agency but we decided after we had spent the sunset tour here that we would like to relax at this resort for a few more days since it was so beautiful.)
This resort is the perfect place to relax, swim in and amazing pools and water slides, walk through beautiful grounds and gardens, eat delicious food, and watch an unforgettably stunning sunset from your balcony or lying under a secluded open bungalow right next to the ocean. My family spent the duration of our time here swimming while I got caught up on homework. The rooms, service, and views were perfect and I am so thankful we stayed here during our trip!
(Caroline van Stralen Photography, @Caroline.Abroad)
(Caroline van Stralen Photography, @Caroline.Abroad, 01/10/17)
Rama Candidasa Resort & Spa (January 17-20):
After a relaxing and incredible couple of days on at the Pan Pacific on the southwest coast, we drove 2 hours to the Rama Candidasa Resort on the east coast. This resort highly exceeded expectations and was my personal favorite place we stayed in Bali. It was quite, secluded, beautiful, right next to the ocean, private little bungalows with beautiful gardens and pathways leading to a perfect and relaxing pool next to a restaurant with delicious food and friendly staff. This resort was the perfect spot to relax, do school, swim, and enjoy a magnificent sunset behind the mountains and was the perfect ending to our trip.
(Caroline van Stralen Photography, @Caroline.Abroad, 01/19/17)
Our Transportation/Recommendations:
Since we booked our tours and pre-booked our transportation to hotels, and the airport with Buffalo Tours we were provided with private, air-conditioned, comfortable transportation with friendly driver and guide and complimentary water bottles. This was nice when we were doing our tours because it can get pretty tiring when you have a jam-packed week of full day tours and it was pretty warm and humid while we were in Bali. Whenever we wanted to go to the markets or the store we just walked because they weren't far, and it was less hassle. But if we wanted to go to different attractions, or locations without a tour or driver then motorbikes are definitely your best choice. Everybody drives them here from small children to tourists, and they make travel through busy city traffic or long roads much quicker, and fun!
Motor Bike
Personal Driver
Tour Bus
Food/Drink:
There are many restaurants and cool food places to choose from with a variety of foods, drinks, traditional dishes, with international, vegetarian, and vegan options! I think that Ubud is a good place to explore your food palette and try new things.
The traditional Balinese food may or may not be for you, but there is always something for everybody.
If you're coming from a first world country don't expect to see pizza, fries, pasta, steak, or chicken wings on the menu. Or if it is on the menu, don't expect it to look or taste the same as your used to. I personally used to not like to go very far outside my comfort zone especially when it came to food, until we started traveling a lot outside of North America. But now that we have been to places like Haiti, Cuba, and Bali I am so glad I went outside my comfort zone and tried the local and traditional foods because I now know I would have regretted not trying them. You just have to go for it!…and be careful to know where the food is coming from.
Nine Of The Most Beautiful Photo Ops In Bali:
During our travels, I have been trying to find more off the beaten path and less mainstream places, especially since I love photography and it can be frustrating when there are millions of photographs of the exact same spot! But of course, I am not going to turn down the opportunity to photograph a place when we visit it even if it is touristy. *So here are 9 of the most popular and some less mainstream but breathtaking spots and photo ops for your Bali adventure!
Pura Besakih Mother Temple
Pura Tanah Lot Temple
Pura Ulun Danu Bratan Temple
Campuhan Ridge Walk
Gitgit Waterfall
Pura Luhur Uluwatu
Pura Lempuyang
Ubud Monkey Forest
Tegal Wangi Beach
Cost/Currency:
The currency in Bali is the IDR – Indonesian Rupiah.
The currency code for Rupiah is IDR, and the currency symbol is Rp.
The most popular exchange rate is the IDR to AUD (Australian Dollar).
Indonesian Rupiah banknotes come in denominations of Rp 1,000, 2,000, 5,000, 10,000, 20,000, 50,000, and Rp 100,000.
IDR to AUD:
1,000 Rp = $00.10
2,000 Rp = $00.20
5,000 Rp = $00.50
10,000 Rp = $1.00
20,000 Rp = $2.00
50,000 Rp = $5.00
100,000 Rp = $10.00
1,000,000 Rp = $100.00
5,000,000 Rp = $500.00
10,000,000 Rp = $1000.00
* There are a few different ways and places you can get your currency exchanged. You are more likely to get a better deal ordering currency from the top two options, it's rare to get a good deal in airport stores or kiosks because exchange rates are high, and there are a lot of high fees.
Your bank/Credit Union
Order currency through a cash converter
Airport Kiosk/Stores
I hope the information this guide/Journal provided was beneficial to planning your trip! Good luck on your future adventures. Don't forget to "live unbound, beyond the borders of your comfort zone and limitless to the possibilities of adventure. Live a life that makes you feel alive." – C.S.v.S Follow me on Instagram: @Caroline.Abroad