The challenges of traveling with Type 1
or the first fourteen years of my life, I didn't have a worry in the world. I would pack my bags and leave with my family to a conference or go on a long hiking trip and only have to worry about having enough clothes along and maybe a book to read. If I didn't pack enough undies or socks it would maybe make me a bit uncomfortable but certainly
would not be life-threatening!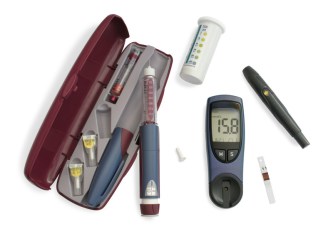 Since my diagnosis last April those days are no more. Now my very life depends on having a proper supply of insulin and other supplies at all times. You would think something this important would be easy to manage right?
Perhaps if I was living a more conventional life, spending most of my time in one house with my medicine in one fridge it would be a bit easier. We on the other hand are full time travelers and move from country to country and hotel to hotel. Sometimes we get up early and catch a shuttle to the airport at 5 AM for an early flight making it even more difficult to manage.
If you have type one diabetes and are struggling to adjust to the new lifestyle, and occasionally forget your medicine, don't worry you are not alone. I guarantee you will feel better about yourself after reading my story.
I have had several "insulin management" challenges all over the world.
The first time was about 6 weeks after I was diagnosed. We were in Oregon and I left all of my supplies at a restaurant. I didn't think about it until we got back to our camp almost an hour away.
We were able to retrieve it after a few phone calls and a few hours of driving.
We were visiting my Grandmother in Salem Oregon and as usual we put my insulin supply in the fridge. Insulin needs to be kept cold or it can spoil. After a nice visit we headed out to Bend Oregon about 2.5 hours drive away. When we arrived I realized I had left my supplies behind. My Aunt Arwen was kind enough to drive them all the way out to us! Thanks Aunty!
I left it again a few months later in a restaurant in Texas this time we got it back more quickly but the problem had yet to be solved. My Dad is a systems guy and he said to me "we need to develop a system to help us manage this better". I agreed.
My next big "Insulin management" challenge came when we went from New Zealand to Australia. We decided to leave our main supply of insulin at our friend's place in New Zealand.
We packed enough for the 25 days we were planning to be there and carefully placed the package in the fridge at our hotel room – ready to go for our 5 am shuttle ride to the airport. When we arrived at the airport and began checking in for our flight we suddenly realized that we had left the package in the fridge at the hotel. My dad quickly called the hotel. They ran up to our room, found the package in the fridge, gave it to the shuttle driver and instructed him to deliver it to us in departures. He made it on time and we still had time to get through security and make our flight to Australia.
We had a lovely "incident free" time in Australia. We visited some lovely places and met wonderful people.
A month later, just as we were about to fly back to NZ, we received news that our Jeep wasn't going to arrive in Auckland for another 24 days as the ship was delayed due to a large Hurricane.
We made a quick last minute decision to stay in Australia for another 24 days. This of course left us short on insulin. I was able to visit a doctor's clinic, get a prescription or "script" as they call it and then buy a backup supply of for Lantis, Humalog, test strips, needles and lancets. One nice thing is that in Australia they actually sell the AVIVA brand of tester supplies like I was used to from Canada. Some countries like New Zealand will carry different blood glucose testers which makes it a bit difficult to manage your BGL because you get used to your system and it's hard to change. We bought enough to last 3 months just to be sure of no further issues.
Because of the length of the delay of our jeep we decided to visit Bali now rather than after our trip to NZ as originally planned. A few days later we packed our bags and headed to the airport.
An hour into our flight from Adelaide to Denpasar, Indonesia, my Mom jumped up and yelled "KEVIN!!" actually she said "oh no! we left your insulin supply in the fridge! Not much we could do, there was no turning around now.
I did a quick calculation and figured I would be ok with the partial insulin pen I had in my backpack. Our visit to Bali was for about two and a half weeks and I had enough to last if I were to eat a very carbohydrate conscious diet.
A week into our trip and I realized that the Balinese diet was anything but low carb and soon I began to get low on both Lantis and Humalog insulin. My Dad began calling and dropping in at local pharmacies to see if he could buy some more. Finally after much searching we were able to visit a remote hospital where the very helpful doctor sold us some of their supplies. The applicator pens were different than the ones I am used to, but after reading the labels and documentation it appeared that the product was the same. We had enough supplies to make it back to Australia safe and sound.
Now what have we learned from all of this?
Here are the main challenges:
One. Leaving my daily insulin bag under tables at restaurants.
Two. Leaving my main insulin supplies in friends' and hotel fridges.
Solution 1:
The first thing we thought of was to buy a bigger better
bag to carry my daily insulin and supplies. The one I was leaving behind was a very small fanny pack style bag. Initially we thought the smaller-the-better, but all that did was make it easy to leave behind.
To solve the problem, we chose a "Patagonia Atom Sling". Any brand will do but this bag is made tough, has lots of room and is comfortable to wear.
I have been happy with this solution. The larger bag easily carries my gear, is comfortable to wear even on long hikes and doesn't make me feel like a tourist carrying a fanny pack.
Solution 2:
The next thing we thought of was to pack all of my insulin the
night before we leave removing it from the fridge and placing it in my luggage with an ice pack. This prevents us from accidentally leaving it in the fridge of the hotel before an early flight.
Solution 3:
The third system we implemented was to use the alarm system on my iPhone. We normally set an alarm to alert us of an early flight or departure. Now we name the alarm "REMEMBER TO CHECK INSULIN SUPPLIES". Before turning off the alarm we are reminded to check our supplies.
All three of these systems have really helped me manage my insulin supply better and have made traveling with T1D a much better experience even though I still forget from time to time.
A few weeks ago I forgot my bag in a restaurant in the town Te Anau and didn't notice until we were 3 hours south in Bluff NZ. We called the restaurateur and he went looking for it and found it. He said hang on there for a minute and left the phone.. a few minutes later he came back and said "you're in luck. I caught the last truck out. The driver is a friend of mine and lives near where you are staying. He is going to deliver it to you". What a relief, I was so thankful! Along the way we've met some very kind and caring people.